Newly Remodeled Banquet Facility!!!
Along with offering some of the best golf courses in Orange County, Costa Mesa Country Club is proud to offer two of the finest banquet halls. We just finished a beautiful brand new renovation of both of our banquets rooms as well as the clubhouse foyer. We invite you to come see what we've done.
Located on the upper-level of our beautiful and historic brick clubhouse on the property, the Mesa Linda and Los Lagos Banquet Rooms have plenty of space for any event you may have. In the heart of Orange County, the country club is accessible, conveniently located, and offers plenty of parking for all of your guests.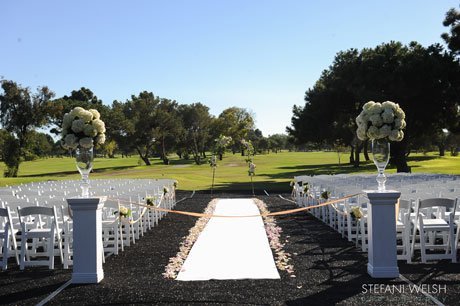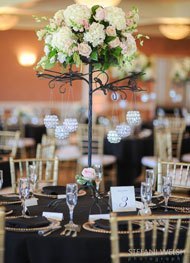 Banquets in Orange County
Both banquet rooms are south-facing with floor to ceiling windows so your guests will have stunning views of the courses and lush landscapes as well as beautiful natural light streaming into the space while you enjoy yourself indoors. The windows are fully retractable to offer a complete open air atmosphere. There aren't many banquet halls in Orange County that can offer the views and natural beauty that we can at the Costa Mesa Country Club in either of our banquet rooms.
Our banquet halls are well-suited for a variety of events, including:
anniversaries
family reunions
school reunions
birthday or other celebrations
theme parties
rehearsal dinners
bridal showers
baby showers
business luncheons
dinner meetings
corporate entertaining
award presentations
golf tournaments
fund raisers
or whatever you're planning!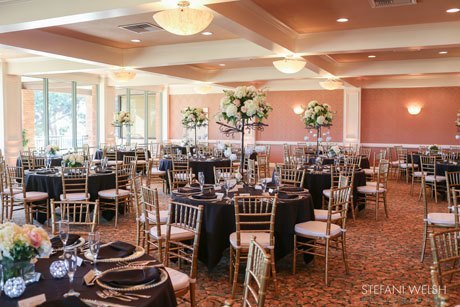 The Los Lagos Banquet Room seats up to 250 guests without the dance floor and up to 200 guests with the dance floor while the Mesa Linda Banquet Room offers seating for up to 90-100 guests with the dance floor and up to 110-120 guests without the dance floor. Both banquet halls boast floor-to-ceiling windows, a dance floor, a built-in bar, and a terrace that offers a closer view of the beautiful landscape of the nearby golf courses. No matter how simply or elaborately you decorate the banquet room, it will be an event that none of your guests will be able to forget.
In addition to these beautiful rooms, the chipping green in front of the clubhouse is available for reservation for outdoor weddings and receptions. With the stunning landscape, inviting walkways, and seasonal gardens, the grounds of the Costa Mesa Country Club provide an ideal and picturesque setting for photography to capture memories of your special occasion that will last a lifetime.
To help make planning easier, the catering staff at the Costa Mesa Country Club are available to help you create and provide an unforgettable menu and atmosphere for whatever event you're planning. We offer either a plated or buffet menu for breakfast, luncheon or dinner with options that will be delicious for all of your guests. We offer a wide variety of hors d'oeurves for lighter receptions, an extensive beverage selection, and themed buffet options to make planning easier for you.
If you would like more information or would like detailed estimates of what we can provide for your event, please do not hesitate to contact us for more information.
FOR INFORMATION REGARDING BANQUETS PLEASE CONTACT NICKI TURNER 714-540-7500 EXT 100 OR NICKI@COSTAMESACOUNTRYCLUB.COM