The 49th Annual Will Jordan Classic, presented by the City of Costa Mesa and Mesa Verde Partners, will be played this August 6th and 7th, here at the Costa Mesa Country Club. If you are interested in competing, please fill out the following application, and return it no later than 5 p.m., July 31, 2022.
COSTA MESA COUNTRY CLUB WOULD LIKE TO CONGRATULATE THE OPEN DIVISION WINNER OF THE 49TH ANNUAL WILL JORDAN CLASSIC BRYCE SHERIDAN!!!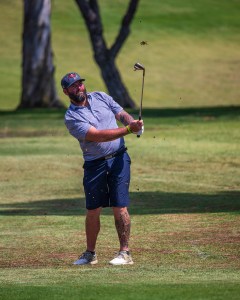 2022 Will Jordan Tee Times and Results
2022 Will Jordan Tournament Rules
Entry fee
$250.00 – Includes tee prize, green fees for both days, barbecue lunch on Sunday, prizes and awards. Checks must accompany entry form. Golf carts not included.
Entry fee non-refundable after July 31, 2022.
Registration closes 5:00 PM, July 31, 2022. No post entries.
Entrants
All players must check in 30 minutes prior to starting time.
Playoffs for first place only.
All players must be 18 years of age or older.
Maximum Index is 16.9.
Field limited to 320 players.
Hand carts will be permitted and are available. Caddies allowed. Senior Division 55 years and up (proof of age required). Tee times will be between 6 AM and 2 PM both days. Visit web site or call pro shop after Aug 2nd for tee times. Contestants must register 30 minutes prior to tee time each day.
Low index for June 1, 2022 will be used. Low index will be verified.
2022 COSTA MESA CITY CHAMPIONSHIP TEE TIMES AND LIVE SCORING
CLICK ON LINK BELOW TO DOWNLOAD AND PRINT ENTRY FORM